PLEASE READ THE TERMS OF USE CAREFULLY BEFORE ACCESSING THE "SITE" OR USING ANY PART OF THE SITE OR "SERVICE" (BOTH AS DEFINED BELOW).
VISITING THE SITE AND/OR USING OR ACCESSING THE SERVICES, THE USER ("YOU") AGREE TO BECOME BOUND BY THE TERMS OF USE AND AVS ELECTRONIC SERVICES, LLC (DBA: Mobitechxpress) PRIVACY POLICY, WHICH ARE INCORPORATED BY REFERENCE. THESE TERMS OF USE APPLY TO ALL USERS OF THE SERVICE, WHETHER VISITOR OR MEMBER, INCLUDING USERS WHO ARE ALSO CONTRIBUTORS OF CONTENT, INFORMATION, AND OTHER MATERIALS OR SERVICES ON THE SITE. IF YOU DO NOT UNCONDITIONALLY AGREE TO ALL THE TERMS AND CONDITIONS OF THE TERMS OF USE, YOU DO NOT HAVE ANY RIGHT TO USE THE SITE OR THE SERVICES. Mobitechxpress ACCEPTANCE IS EXPRESSLY CONDITIONED UPON YOUR ASSENT TO ALL THE TERMS AND CONDITIONS OF THIS AGREEMENT; YOUR CONTINUED USE OF OR ACCESS TO THE SITE AND/OR SERVICES SHALL BE DEEMED ACCEPTANCE OF THE TERMS OF USE.
The following terms and conditions govern all use of the mobitechxpress.com website (the Site) and the services available on or at the Site (the Service). The Service is owned and operated by AVS Electronic Services, LLC. (DBA: Mobitechxpress). The Service is offered subject to acceptance without modification of all of the terms and conditions contained herein (the Terms of Use) and all other operating rules, policies and procedures that may be published from time to time on the Site by Mobitechxpress.
The Service is available only to individuals who are at least 18 years old or who are emancipated minors, or possess legal parental or guardian consent, and are fully able and competent to enter into the terms, conditions, obligations, affirmations, representations, and warranties set forth in these Terms of Use, and to abide by and comply with these Terms of Use. In any case the Site is not intended for children 13 or under. If you are 13 or under years of age, then please do not use the Site. Mobitechxpress may, in its sole discretion, refuse to offer the Service to any person or entity and change its eligibility criteria at any time.
Mobitechxpress reserves the right, at its sole discretion, to modify or replace any of the Terms of Use at any time, by posting the modified Terms of Use or other policies or guidelines on the Site, and if permitted to do so, sending you an e-mail notifying you of the nature of the modifications and a link to the modified document on the Site so that you may review it. It is your responsibility to check the Terms of Use periodically for changes. Your continued use of the Service following the posting or notification of any changes to the Terms of Use constitutes your acceptance of those changes and your agreement to abide and be bound by the Terms of Use, as amended. If at any time you choose not to accept the Terms of Use, including following receipt of notification of any modifications hereto, then please do not use the Site or the Service.
The obligations and liabilities of the parties incurred prior to the termination date shall survive the termination of this agreement for all purposes.
These Terms of Service are effective unless and until terminated by either you or us. You may terminate these Terms of Service at any time by notifying us that you no longer wish to use our Services, or when you cease using our site.
If in our sole judgment you fail, or we suspect that you have failed, to comply with any term or provision of these Terms of Service, we also may terminate this agreement at any time without notice and you will remain liable for all amounts due up to and including the date of termination; and/or accordingly may deny you access to our Services (or any part thereof).
Prices are subject to change. Quotes\Estimate and pricing terms are negotiated between Mobitechxpress and its vendors and may be unique to the Customer depending on geography, service type or other factors. Mobitechxpress does not guarantee any price and may change its prices from time to time. Customer may be responsible for the costs of shipping, handling, and/or courier fees required for the performance of Service.
Repair Price and Part Quality
Our repair price is variable depending on the type of part used. The prices below are that we mainly use aftermarker parts but that the quality and specifications are the same as the originals, to have an affordable price. Remanufactured or OEM parts may be available if requested, but the price will be higher and availability depends on whether the supplier has them in stock. We do not maintain an inventory of OEM parts. If you request a repair with an OEM part, it must be ordered and the ETA is between 2 to 5 business days.

Our 5% Best Price Guarantee is our commitment that we offer the lowest price. If you find a cheaper price, we will beat it by 5%. This applies to any product that meets the criteria below.
WHAT IS INCLUDED
Advertised prices from USA domestic retailers, in store and online.
Competitor's final price inclusive of any taxes and delivery fees.
Exact-match products that are new, factory sealed, and subject to manufacturer's warranty.
Stocked items only, available for immediate shipment or installation
WHAT IS EXCLUDED
Overseas websites and retailers.
Stock liquidations, advertising errors or misprints, commercial quantities, bonus offers, coupons, discount codes, vouchers, or cash back offers.
Marketplaces like eBay, Facebook, and Amazon.
Grey imports that don't include an USA manufacturer's warranty.
This offer cannot be applied retrospectively.
Copyright,Trademarks & Affiliation
Unless otherwise indicated, the Terms of Use and all Content provided by Mobitechxpress are copyright © 2019. ALL RIGHTS RESERVED. Mobitechxpress, and the logo, as well as any other logos or brand features owned by Mobitechxpress, are trademarks or service marks of Mobitechxpress or otherwise proprietary to Mobitechxpress. Any use, including but not limited to the reproduction, distribution, display or transmission of the content of this site is strictly prohibited, unless authorized by Mobitechxpress. You further agree not to change or delete any proprietary notices from materials downloaded from the site. The names of actual companies and products mentioned on the Site may be the trademarks or service marks of their respective owners.
All trademarks, service marks and trade names of Mobitechxpress used in the Site or the Service are trademarks or registered trademarks of Mobitechxpress, more specifically AVS Electronic Services, LLC. iPhone, iPod, and iPad are all trademarks of Apple Inc., and of Apple Inc. alone.
Mobitechxpress is an independent service provider. Mobitechxpress, its affiliates and each of its, and its affiliates' employees, contractors, directors, suppliers and representatives, are in no way, shape, or form affiliated with Samsung, Apple Inc. or Google.
By accepting the service, you authorize Mobitechxpress technicians to perform repair work on my electronic device. You understand that Mobitechxpress technicians have been trained to perform work on electronic devices but Mobitechxpress is not an authorized service provider. Further, You agree to release, indemnify, and hold AVS Electronic Services, LLC (DBA: Mobitechxpress) from liability for any claims or damages of any kind or description that may arise from any repair work performed on my electronic device, unless it is caused by severe negligence of Mobitechxpress agents or technicians. 
Notice: On iPhone 11, iPhone 11 Pro, and iPhone 11 Pro Max devices or newest version will show an 'Important Display Message' if the phone detects that the screen or battery is a non-genuine replacement. The message in a new support note that explains how a non-genuine display can impact certain functions and why it's taking an approach that doesn't stop owners from using the device but could affect future servicing. If a display isn't genuine the Important Display Message appears on the lock screen for four days and in the Settings app for 15 days. These notifications don't affect the owner's ability to use their display,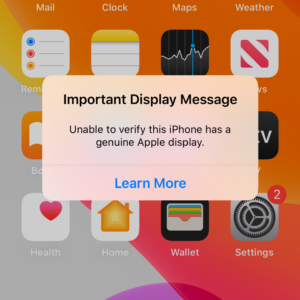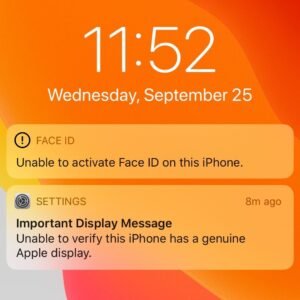 By authorize Mobitechxpress to replace the screen or battery of your iPhone 11 or newest, you assume all responsibility for any malfunction such as color, resolution or any other difference from the OEM screen (or battery) caused by the installation of a Non-OEM. The replacement of your screen or battery is at your own risk. Mobitechxpress is not responsible for any damage / malfunction of your device that you may encounter after replace it. In the event that "You" request and "We" authorize that the OEM (original) screen or battery be installed back, you agree to pay a 25% of restocking fee of the repair cost.
You understand that repairs or technical support performed by Mobitechxpress may void manufacturer warranties, especially in the case of iOS device repairs. Mobitechxpress and its affiliates do not assume any liability or warranty in the event that the manufacturer warranties are voided but may, at its sole discretion, offer its own warranty on the parts and/or services performed.
AVS Electronic Services, LLC may, at its sole discretion, use rebuilt, reconditioned, or new parts or components when servicing your device. It will be warranted for a period of (30) days. If your device is malfunctioning, please contact us to request a diagnosis. Upon examination by Mobitechxpress, if your device is found to be defective due to the part purchased from Mobitechxpress, it will be repaired or replaced free of charge. This warranty does not apply to defects that result from any action on your part or CID (Customer Induced Damage), including but not limited to mishandling, physical damage, water damage, improper interconnection, off-limits operation design, improper repair by someone other than Mobitechxpress, or unauthorized modification. This warranty is VOID if Your Device shows evidence of tampering (broken seal) or shows evidence of damage as a result of excessive corrosion; or current, heat, humidity or vibration; wrong specification; wrong application; misuse; abuse or other operating conditions beyond the control of Mobitechxpress.